News
Latest updates from the campaign:
Monday, April 3, 2017 12:25 PM
Endorsement of Mark Tendam for Mayor
Jeff Smith's Mar. 23, 2017 endorsement of Mark Tendam for mayor in the April 4, 2017 runoff election.
/images/51570/Press_release_5-0323.pdf
Full text as follows:
"One of two candidates on the April 4 ballot will be the next mayor of Evanston. I plan to vote for Mark Tendam and urge my supporters, as well as those who did not vote at all in the unprecedented February primary, to do so. Voters need to come out on April 4 and make a decision that reflects important differences that do exist.

"Experience: Mark Tendam has nearly eight years experience as an elected official, plus additional City committee service beforehand. He is the only candidate I can recall seeing five or ten years ago at City Council or ward meetings. The City of Evanston is an agency with a $300 million budget and many moving parts, and our community is complicated. Both take years to learn, and the mayor and Council remove accountability from decisionmaking if they are unfamiliar with the workings. Mark Tendam's understanding of the dynamics that crafted some of our important City plans and decisions, that residents expect to be honored, is important.

"Leadership: Mark Tendam also has a real record of City leadership, taking positions on controversies that concerned the community, such as the libraries, and forging a majority of Council votes to pass legislation. The mayor of Evanston is not a chief executive in the sense of the mayor of Chicago, but a chief legislator who must work with a diverse group and balance many constituencies' different points of view. Any mayor will face temptations of expediency and pressures of politics; Mark Tendam will not face those as a rookie would.

"The environment was hardly the only issue I ran on but it is a keystone topic that every elected official and candidate must stress when the President is threatening to gut the EPA and our environmental laws. Mark Tendam stood up for aggregating renewable energy in Evanston when it mattered and has been a key vote on other green issues. His opponent, despite running for the better part of a year, still does not mention environmental issues on his website.

"Democracy: Finally, Mark Tendam's campaign has more grassroots authenticity. All his petitions were gathered by Evanston residents, including some veteran organizers, and over 100 by Ald. Tendam himself, including actual door-to-door work. He is not relying on record-breaking spending to purchase community recognition. The role of money in politics is the unacknowledged elephant in the room in this race, and any veteran of the Ab Mikva days has to help show that elephant the door.

"I look forward to seeing Mark Tendam's leadership and experience in the mayor's office."
---
Monday, February 27, 2017 6:00 PM
Jeff for Evanston YouTube!
Jeff Smith for Evanston haz YouTube channel. No, we're not sure how either. But it haz videoz. Two anyway.
---
Monday, February 27, 2017 1:16 PM
As correctly reported on patch.com, we've disabled or hidden the Donate features of this website and removed a money pitch from our final e-mails. We are grateful to all those who have contributed, but in these final 40 hours we want the focus on ideas. Those wanting to contribute: please e-mail 10 Evanston friends and ask them to do the same!
---
Monday, February 27, 2017 7:29 AM
Evanston attorney and community leader Jeff Smith, candidate for mayor of Evanston, has deleted the campaign contribution and donation features from his election eve e-mails and has disabled the Contribution button on the front page of the campaign website.
---
Saturday, February 25, 2017 9:42 PM
The Daily Northwestern has put some clips from the mayoral forum online.
---
Saturday, February 25, 2017 8:29 AM
Media coverage of the Evanston mayor race has picked up, with lots of new coverage of Jeff Smith. Click to see more.
---
Friday, February 24, 2017 12:00 AM
Mayor candidate Jeff Smith was featured in the Evanston Public Library feature "Readers of Evanston."
---
Friday, February 24, 2017 12:00 AM
Large reach, few words.
---
Thursday, February 23, 2017 2:24 PM
Evanston mayoral candidate Jeff Smith has challenged conventional wisdom by elevating environmental issues to the top of the debate in a political race.
---
Wednesday, February 22, 2017 12:00 AM
Jeff Smith will appear at the final 5-candidate mayoral forum before the Feb. 28 primary, tonight, Feb. 22, 2017. The forum, sponsored by Evanston Rotary Clubs, will take place at Rotary International, 1560 Sherman Ave., Evanston, and will formally begin at 6 pm but is preceded by a reception at 5:30. It is recommended to register (for free) in advance (click here or the headline for this article) and arrive early.
---
Friday, February 17, 2017 12:19 AM
Jeff Smith WCGO Interview online
WCGO has made available a video of Jeff Smith's Feb. 15 appearance on the French and Friends show, and we've posted it here. Jeff does a great job of explaining the intersectionality of economic development, art, and environment in Evanston's future!
---
Thursday, February 16, 2017 12:21 PM
Debate in a Brewpub TONIGHT
How great is this?! Come tonight to the "Saloon Discussion," 7-9 PM, Feb. 16, 2017, hosted by Evanston streaming TV personality Jenny Arrington and moderated by Mark Caro at Temperance Beer Co., 2000 W. Dempster, Evanston. The discussion with all 5 mayoral candidates is billed as a more free-wheeling alternative to more formal forums.
Space may be limited, so REGISTER ahead (for free) at
Eventbrite: https://www.eventbrite.com/e/the-new-saloon-candidates-on-tap-tickets-31459665707
or
Facebook: https://www.facebook.com/events/1849816498641171/
---
Thursday, February 16, 2017 10:35 AM
Jeff Smith on WCGO-AM Radio 2/16/2017
Tune in between 5 and 6 pm CT today, Feb. 16, 2017, to Evanston's own WCGO-AM, where Jeff will have a lively discussion with Daniel French on "French and Friends" radio, WCGO-AM 1590 (probably about 5:15).

How to listen:
1590-AM on THE RADIO, or
streaming at http://streamdb5web.securenetsystems.net/v5/WCGOhttp://streamdb5web.securenetsystems.net/v5/WCGO
---
Thursday, February 16, 2017 10:04 AM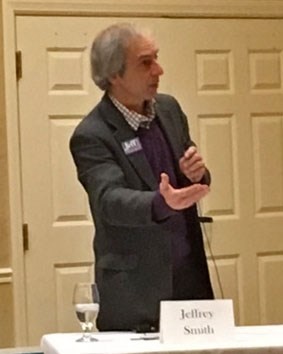 Evanston mayoral candidate Jeff Smith raised some provocative and winning points at the Three Crowns Park forum Tue., Feb. 14.
---
Wednesday, February 15, 2017 12:36 PM
Video of the forum at Northwestern U. last week is online.
http://www.facebook.com/dan.coyne.921/videos/vb.100000511149138/1618488741511482/?type=2&theater
---
Tuesday, February 14, 2017 12:55 PM
Jeff Smith will participate in a modern-day political"saloon discussion" Th., Feb. 16, 2017, 7-9 PM at Temperance Beer Co. in Evanston.

---
Monday, February 13, 2017 3:52 PM
Jeff Smith at Evanston Open Communities Workshop
Jeff took time out from campaigning to attend and participate in the Open Communities workshop at St. Nicholas Church on Sunday, Feb. 12, 2017. An estimated 450 people attended.
---
Friday, February 10, 2017 5:00 PM
Jeff Smith LIVE RADIO 2/11
Jeff will be LIVE on RADIO Saturday morning!
All you need to know about the Evanston mayor race in an interview with political pros Michael James, Katy Hogan, and Thom Clark: "Live From the Heartland" radio, WLUW-FM
Saturday morning, February 11, 9-10 am Central
3 ways to listen:
• 88.7 FM
• streaming on wluw.org
• streaming on the show's Facebook page, https://www.facebook.com/Live-From-The-Heartland-Show-176044392448701/app/142371818162/

---
Thursday, February 9, 2017 10:23 AM
CSNA Forum Thurs., 2/9/17
Evanston mayor candidate Jeff Smith will appear tonight at the 7:00 pm forum hosted by the Central Street Neighbors Association at Haven School. All candidates have been invited. Doors open at 6:30 and a short organizational business meeting, plus statements by some aldermanic candidates, will precede the mayoral forum. All candidates have been invited and it is expected that literature from candidates from school board, City Clerk, and other campaigns will be available.
See http://www.centralstreetneighbors.com/node/1419
---
Thursday, February 9, 2017 9:00 AM
Letter to the Evanston Roundtable by one of Evanston's leading citizens in support of Jeff Smith for Mayor of Evanston.
---
Tuesday, February 7, 2017 12:00 AM
Evanston's only daily newspaper captures the progressive, environmentalist, and independent essence of the Jeff Smith campaign for mayor.
---
Friday, February 3, 2017 12:00 AM
Office of the President at Northwestern University's coverage of this week's mayoral candidate forum.
---
Tuesday, January 31, 2017 9:20 AM

Evanston mayoral candidate Jeff Smith attended a standing-room-only Evanston Police open house at the Levy Center.
---
Friday, January 27, 2017 7:30 AM
Jeff Smith stopped in at Citizens' Greener Evanston's program on environmental justice.
---
Monday, January 23, 2017 4:46 AM
Evanston mayoral candidate Jeff Smith met with voters at the Democratic Party of Evanston's "Big Ideas" workshop on Sun., Jan. 22, 2017 at Fleetwood-Jourdain Center.
---
Wednesday, January 18, 2017 12:00 AM
The Evanston Roundtable published Jeff Smith's thorough and thoughtful answers to a dozen questions.
---
Saturday, January 14, 2017 5:00 PM
Jeff Smith at Evanston MLK Day of Celebration

---
Tuesday, December 20, 2016 9:00 AM
Jeff Smith Files Nominating Petitions for Mayor of Evanston, Illinois
---
Friday, December 16, 2016 12:00 AM
Jeff labored, digging deep, to try and explain the mess of an election created by politicians with respect to the 2017 municipal elections in Evanston. This detailed FAQ posted on the Central Street Neighbors website got over 500 reads in the first week it was up.
---
Wednesday, December 14, 2016 12:00 AM
Evanston Roundtable coverage of Jeff Smith petition circulation and anticipated filing for mayor of Evanston.